CIRCULOGENE's liquid biopsy for PD-L1 status features in research presented at the recent AACR annual meeting
Testing cancer patients for PD-L1 mRNA levels using CIRCULOGENE technology can improve patient selection for tailored therapies and avoid unnecessary treatment-related toxicity.
 BIRMINGHAM, Ala. and Pensacola, Fla. (May 12, 2023) – CIRCULOGENE is an innovative diagnostic company transforming precision medicine through the rapid delivery of actionable results. New research presented by Dr. Lowell Hart at the April 14-19 American Association for Cancer Research (AACR) Annual Meeting in Orlando, Florida relied upon use of CIRCULOGENE's technology to identify biomarkers which indicate the efficacy of immune checkpoint inhibitors (ICI) therapy.
The research poster, entitled "Liquid biopsy for PD-L1 status by analysis of cfRNA in pan-cancer cohort: Preliminary clinical data from a large community practice" was presented and lead authored by Lowell L. Hart MD FACP, Clinical Researcher from Florida Cancer Specialists and Associate Professor of Hematology and Oncology at Wake Forest University School of Medicine. The poster was coauthored by Dr. Magali Van den Bergh and Stacey Garafalo, also from Florida Cancer Specialists, and Dr. Paul Walker, Chief Medical Officer for CIRCULOGENE.
For this study, Dr. Hart and his team collected data from over 400 patients over a 2-year period to validate the ability to detect PD-L1 positive using liquid biopsy testing. Liquid biopsy afforded patients a second opportunity for PD-L1 detection, rather than tissue alone, or provided the only opportunity for patients to benefit from ICI when tissue samples were unavailable. The use of liquid biopsy could improve patient selection for ICI therapy and help clinicians to avoid unnecessary treatment-related toxicity in patients.
Programmed death-ligand 1 (PD-L1), a protein over-represented on the surface of cancer cells, inhibits T cell response and enables cancer cells to evade the immune system. ICI therapies are designed to enhance the immune system's ability to recognize and attack cancer cells. Since clinical evidence suggests that patients with higher PD-L1 levels are more likely to respond to ICI therapy than those with lower levels, PD-L1 testing using immunohistochemistry has become a widely used tool to predict ICI therapy response.
Unfortunately, tissue samples are not always practical or effective. Liquid biopsies offer a less invasive approach to sampling tumor biology and a more accurate way to assess potential therapeutic response. CIRCULOGENE's technology, which was used in this study, provides the successful recovery of 97% of available DNA and RNA from blood-based samples. CIRCULOGENE tests the plasma mRNA PD-L1 which translates the PD-L1 protein, thus focusing on the genomic makeup of a cancer. Plus, since multiple areas of a tumor can be tested compared to a single tissue biopsy, CIRCULOGENE's liquid biopsy testing can better account for the heterogeneity of cancer tissue, and a more comprehensive picture of a tumor's genetic makeup and PD-L1 expression can be obtained.
"The data demonstrates that liquid PD-L1 RNA expression is as clinically beneficial as tissue PD-L1," said Dr. Paul Walker, Chief Medical Officer of CIRCULOGENE. "Plasma PD-L1 has significant clinical utility guiding immunotherapy treatment."
In Dr. Hart's study, patients found with elevated cfRNA for PD-L1 based on the CIRCULOGENE liquid biopsy, received either standard of care therapy or ICI therapy following their oncologists' recommendations. Some patients were directly benefited by the ability of blood-based testing to inform treatment plans. Additionally, in some cases, CIRCULOGENE's test results provided opportunities for drug replacement for patients, opportunities that would not have been afforded had liquid biopsy testing been unavailable.
Liquid biopsy can deliver faster results than evaluating traditional tissue samples and can provide a viable alternative in cases where tissue samples are not obtainable, such as for breast cancer patients with years of hormone therapy. "It's exciting to give patients a second prospect to identify PD-L1, other than tissue alone, providing a better chance to uncover the gene alteration," said Dr. Hart. "And it's exciting to help patients benefit from immune checkpoint inhibitors who previously might not have had the opportunity."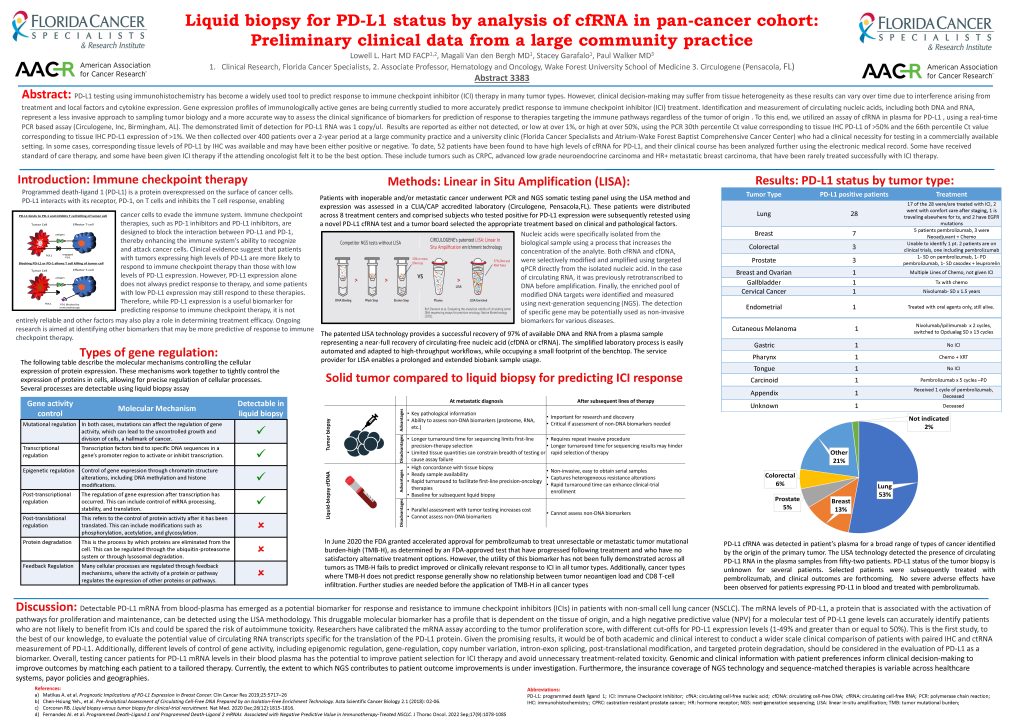 About CIRCULOGENE
CIRCULOGENE provides comprehensive biomarker testing for a broad range of cancers allowing physicians to match patient results with specific therapies in just one week. Their sequencing and qPCR methods can provide a full genomic load analysis to help clinicians select targeted therapies, monitor efficacy, and assess recurrence for cancer patients. Applying their liquid biopsy for cfDNA and cfRNA, including PD-L1 and MSI detection, CIRCULOGENE can detect circulating germline and somatic mutations and RNA fusions.
CIRCULOGENE is a Clinical Laboratory Improvement Amendments (CLIA) and College of American Pathologists (CAP) certified laboratory and a Verified Vendor for the federal System for Award Management. For more information, visit our website at circulogene.com, connect with us on LinkedIn, Facebook, and Twitter, email info@circulogene.com, or call us at 855-614-7083. Clinicians interested in ordering tests may also visit our contact page at circulogene.com/contact.
###
Contact:
Scott Rezek
srezek@circulogene.com
205-278-1607