CIRCULOGENE's blood-based, gene panel is central to research presented at last weekend's Digestive Disease Week 2023
Speed of delivery resulting from liquid biopsy techniques was a key factor in the ability of circulating tumor DNA reports to inform decision making for first-line cancer therapy.
BIRMINGHAM, Ala. and Pensacola, Fla. (May 11, 2023) – CIRCULOGENE is an innovative medical technology company transforming precision medicine through the rapid delivery of actionable results. Their blood-based, 88-gene panel, used for detecting circulating tumor DNA (ctDNA), was featured in the research study "Analysis of Circulating Tumor DNA for Malignancies Sent at the Time of Endoscopic Visualization: An Optimal Strategy for Diagnosis and Selection of Targeted Therapies."
Research from the study was presented in Chicago with approximately 800 other abstracts for Digestive Disease Week on Saturday, May 6. The presentation was made by Matthew Grossman, MD, of Atlantic Health System as well as Dawid Nowak, MD; Dhruv Patel, DO; and Devina Adalja, MD, of St. Joseph's University Medical Center.
The study sent ctDNA on patients with all types of GI malignancy at the time of endoscopic visualization. Results demonstrate how early consideration for ctDNA signatures of cancer can influence first-line chemotherapy and immunotherapy choices.
"This study demonstrates the important role of the gastroenterologist in offering patients superior oncology care," said Dr. Matthew Grossman, Chief of Gastroenterology at Morristown Medical Center and lead researcher for the study. "Previously, without the use of liquid biopsy, tumor genomics were not considered until the failure of standard chemotherapy. GI doctors have the opportunity to send this test at the time of endoscopy, empowering the oncologist to offer personalized care from day one."
Advances in genomic sequencing technology have enabled noninvasive detection and molecular profiling of cancers. In this 2-year study, incidence of genetic fragments released by tumors into the bloodstream, known as ctDNA, was evaluated using CIRCULOGENE's blood-based gene panel to evaluate overall results of ctDNA detection when performed at the time of endoscopy.
In the study, pancreatic, colorectal, gastric, esophageal, and biliary lesions were assessed in 231 patients when doctors determined a high suspicion for malignancy. When ctDNA analysis was sent at the time of endoscopy, the oncologist could use the results to aid decision-making for first-line therapy. The study found that ctDNA was positive in 71% of pancreatic cancers and the large majority of other GI malignancies.
"Cancer touches everyone, and it is our team's belief that people want the most actionable, personalized, and accurate health information possible in the shortest amount of time," said Mike Mullen, President and CEO of CIRCULOGENE. "Dr. Grossman's research demonstrates the importance of getting treatment to cancer patients faster which can be done with liquid biopsy testing for DNA, RNA, and MSI all of which CIRCULOGENE provides, in less than a week."
Dr. Mathew Grossman is the Division Chief of Gastroenterology and Director of Advanced Endoscopy with the Atlantic Medical Group Gastroenterology at Morristown. With clinical interests in therapeutic endoscopy, he has been active in clinical trials of endoscopic devices as well as genomic research on pancreatic duct fluid genomics. Dr. Grossman has written numerous publications in peer-reviewed journals, has presented at many national scientific meetings, and has given frequent talks throughout the GI community about the latest innovations in endoscopy.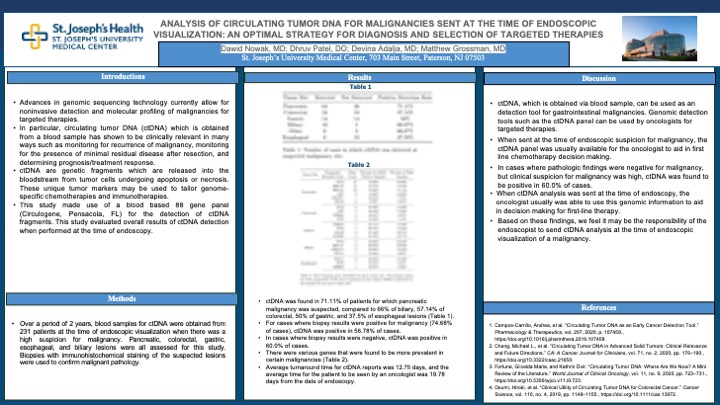 About CIRCULOGENE
CIRCULOGENE provides comprehensive biomarker testing for a broad range of cancers allowing physicians to match patient results with specific therapies in just one week. Their sequencing and qPCR methods can provide a full genomic load analysis to help clinicians select targeted therapies, monitor efficacy, and assess recurrence for cancer patients. Applying their liquid biopsy for cfDNA and cfRNA, including PD-L1 and MSI detection, CIRCULOGENE can detect circulating germline and somatic mutations and RNA fusions.
CIRCULOGENE is a Clinical Laboratory Improvement Amendments (CLIA) and College of American Pathologists (CAP) certified laboratory and a Verified Vendor for the federal System for Award Management. For more information, visit our website at circulogene.com, connect with us on LinkedIn, Facebook, and Twitter, email info@circulogene.com, or call us at 855-614-7083. Clinicians interested in ordering tests may also visit our contact page at circulogene.com/contact.
###
Contact:
Scott Rezek
205-278-1607